Welcome to Our Site !!

We are a not-for-profit, tax exempt
organization (501 (3) c) licensed by the
state of Missouri and the Federal government.

We are volunteers only.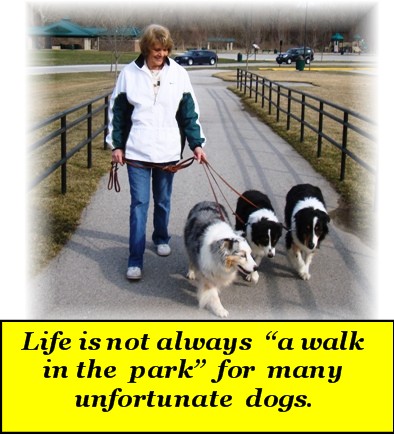 Photo: "Darlin' Dapples", "Bonnie-Lass" &" Mr. Bojangles" take a recent  walk.  All will be 15 soon. They are not "rescued dogs", but belong to one of our volunteers.  Our wish is that all dogs, but especially those that pass  through our organization, might have the long and happy life responsible ownership brings.
New Beginnings
 Cat and Dog Rescue
Was created by "everyday-ordinary" folks
 trying to do whatever we can to alleviate
suffering in the animals God places
in our life's path.
We are small but earnest.

We hope Guests 
will enjoy learning more about us
and the animals in our programs
.
Our Motto
Rescue - Rehab - Expose - Inform - Adopt

Our Mission In Brief Video Clip
The Definition of a "Weed" is an "Unwanted"  plant.


"All My Life I've Been Just A Weed
You Plucked  Me Up,
Took Me Home
Planted Me In Your Garden
I Became A Flower"